Achieve It 50th Anniversary (Very) Special Magazine
Character Options supports Welsh special school with enterprising Doctor Who project
Proceeds from this very special magazine will go to the Wales air ambulance service.
Character Options, master toy licensee for Doctor Who, is to support a Welsh special school in a unique Doctor Who project, sponsoring the printing and production costs of the school's one off Doctor Who fan magazine that is written, designed and published by the pupils taking part in the school's enterprise scheme.
The magazine will be available from the school from the 2nd July and costs £3.50 (100 pages).
All enquiries to Ysgol-Pen-y-Bryn school
Interviews inside…
David Tennant
Tom Baker
Peter Davison
Colin Baker
Brian Blessed
William Russell
Katy Manning
Russell T Davis
Dan Starkey
Sophie Aldred
Rula Lenska
Mike Collins
Anjli Mohindra
Louise Jameson
Bonnie Langford
Helen Griffin
Mike tucker
Sarah Louise Madison
Anneke Wills
Yee Gee Tso
Includes a never seen before short story by Mike Tucker
Ysgol-Pen-y-Bryn school in Swansea is a school of 114 pupils with a wide range of specials needs. Each year the Sixth Form run a variety of Enterprise Projects, to gain new skills, learn about enterprise and gain an Agored Cymru Qualification in (Running An Enterprise Project).
The original cover artwork from The Dalek Project now put to a very worthwhile use…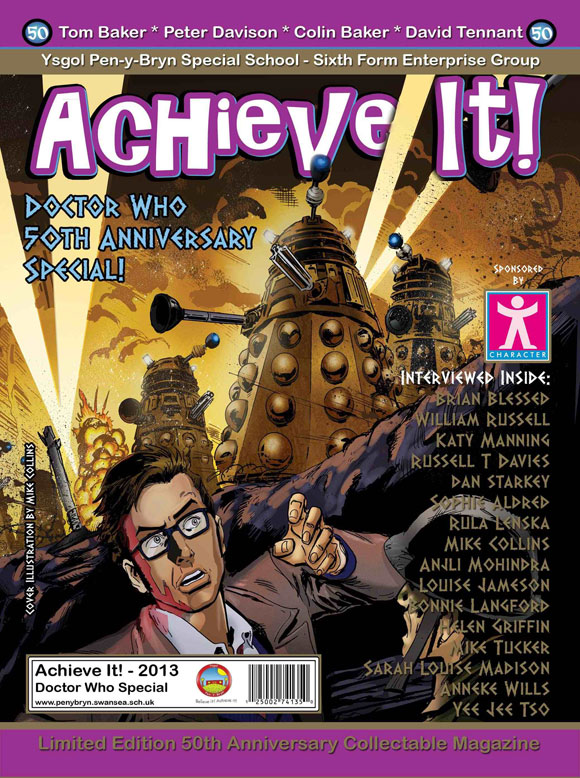 With this year being the 50th Anniversary of Doctor Who, the group decided that to create a one off magazine based on five decades of the Doctor's adventures would be a perfect fit and approached Character Options to help fund production, which the company was more than happy to help with.
Mark Hunt, Brand Manager at Character Options, commented: "We are delighted to be involved in Ysgol-Pen-y-Bryn's Enterprise project. Looking at the work they have achieved to date, we know it's going to be an amazing magazine that will be enjoyed by all that are lucky enough to own one. It's packed with nearly 100 pages of facts, features, interviews and graphic work and the quality that has been achieved is remarkable. We are therefore proud to fund the print production which we know in this auspicious year will be in high demand."
James Williams, Community Co-Ordinator at the school said. "We are delighted to be working on this Doctor Who project with Character Options. Many of the pupils have an affinity with the series especially as its home is just down the road in Cardiff, and I am extremely proud of the work they have created. But like all projects, funding is required and this allows us to give our pupils new experiences and learn new skills that they can take on with them to college. We therefore would like to thank the team at Character Options for their incredible support, not only financially but also their knowledge of Doctor Who. Over the next few weeks a great deal of work needs to be achieved and we look forward to working even closer with the team in seeing the final magazine come to fruition."
The school's magazine will be launched on 3rd of July 2013 at an event at the Doctor Who Experience in Cardiff Bay.