Welcome to The Tardis – The Doctor Who Experience
Doctor Who Experience – Welcome to The Tardis
What's one of the first things any Doctor Who fan would want to do? I suspect to visit the Tardis – Well now you can, for a limited time this summer the Doctor Who experience are offering visitors the chance to tour the actual set used in the currant series, not in the experience, but in the very studio at Roath Lock where the programme is filmed.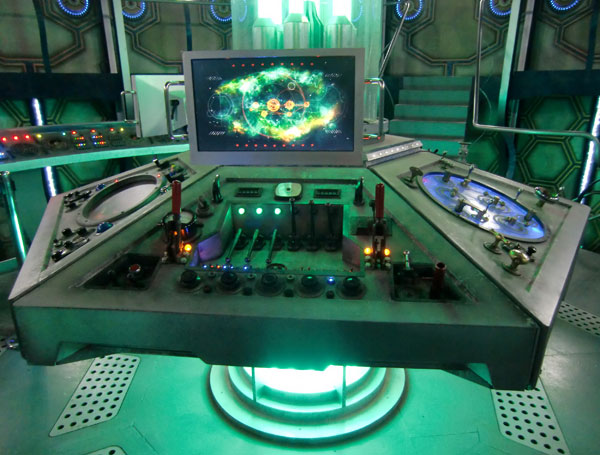 Thanks to BBC Worldwide we were lucky enough to be in one of the first parties to step foot on the set, needless to say its an experience not to be missed, the set is completely enclosed so the thought that you are in studio at all soon disappears, in fact the outside world suddenly seems very distant – its somewhere where you feel you want to stay for a while.
I think in this case we will let the pictures do the Talking…
72157634754512319
Also on offer are walking tours to filming locations around Cardiff, its actually quite fascinating finding out how some of the buildings and interiors were used, not just for Doctor Who but Torchwood as well. From Derelict buildings to Sand dunes its well worth adding this attraction to your day out. We have not included any pictures of the tour as they may somewhat spoil the surprise of how buildings and interiors are used. Its much better to see them for yourselves.
The Experience also has a number of new addition from series 7b so a return visit is well worthwhile if you havnet been for some time. You cna see some of the more recent additions along with some of the long standing props in the gallery below.
Press release…
Official TARDIS Studio Tours
Available from the Doctor Who Experience now
The Doctor Who Experience is adding an exciting new dimension for Summer 2013. For the first time ever, visitors to the Doctor Who Experience in Cardiff Bay – the spiritual home of Doctor Who – will have the opportunity to visit the TARDIS set at the nearby Roath Lock Studios.
Guests will be able to set foot on the brand new TARDIS console room which has been seen on screen since the 2012 Christmas special The Snowmen and will also be featured in the highly anticipated 50th anniversary episode on 23rd November.
Visits begin from the Doctor Who Experience foyer and it is advisable to book in advance of a visit. More information on tickets can be found at www.doctorwhoexperience.com
Prices start from £20.50 for adults and £14.50 for children, which includes general admission to the Doctor Who Experience and the TARDIS studio set tour, or £25.50/£14.40 respectively to include a walking tour of filming locations around Cardiff Bay.
These official studio tours are available to book now until the 25th of August.
Photography is permitted while on the Official TARDIS Studio Tours.