The Doctor Who Experience Monster Day Out
A Monster Day Out event confirmed!
Full information at www.doctorwhoexperience.com
With thanks to immediatemedia.co.uk…
MONSTER DAY OUT event with Doctor Who Adventures magazine this Easter

Kids only! All adults must be accompanied by a child.
The Doctor Who Experience will be hosting the very exciting 'A Monster Day Out' event on Wednesday 3rd April 2013, to celebrate the re-launch of the Doctor Who Adventures magazine.
Starting at 11:00am and finishing at 16:30pm, the day will be packed full of monster fun activities: learn cartoon skills with Doctor Who Adventure's very own comic artist's workshop; find out how to walk like a monster with Doctor Who's monster choreographer Ailsa Berk; create your own scary monster eggs at the 'Eggsterminate' station and pick up your very own Doctor Who Adventures goody bag.
Tickets to the event are free of charge with a valid Doctor Who Experience Ticket for Wednesday 3rd April.
As part of the event, the Doctor Who Experience will also be hosting exclusive Q&A sessions with one of the monsters from the show….Strax! Come and see the Commander answer questions and bring your camera along for the opportunity to have your photo taken with the Sontaran too.
Tickets for the Q&A sessions are limited and you will need to pre-register to attend. The three sessions will be taking place at:
11:30am – 12:30pm
1:30pm – 2:30pm
3:30pm – 4:30pm
Parents/guardians must register writing 'Strax Q&A' in the header of the email. Please then state which session you would like you and your child to attend; the name and age of your child as well as the name of the parent/guardian who will be accompanying the child*. If you would like to submit a question to be asked in the session, please also include it in your registration email.
With only 100 tickets available for each of the three sessions, be sure to register fast!
The first ever Doctor Who kid's only event**, is free with a valid Doctor Who Experience ticket. Book your Doctor Who Experience tickets for Wednesday 3rd April today!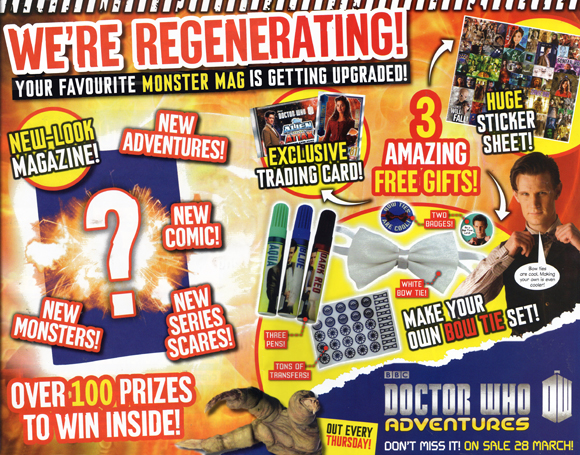 ⁺ Doctor Who Adventures is a weekly magazine for young boys and girls who love Doctor Who. It has a circulation of 31, 935 according to the last Audit Bureau of Circulation (ABC) figures.
* The data supplied will be used for this event only and will not be used for any future promotional activities or passed onto any third parties.
** Every child attending the event must be accompanied by a parent[s] / guardian[s].