What did you Think of Mummy On The Orient Express?
The Doctor and Clara are on the most beautiful train in history, speeding among the stars of the future – but they are unaware that a deadly creature is stalking the passengers.
Once you see the horrifying Mummy you only have 66 seconds to live. No exceptions, no reprieve. As the Doctor races against the clock Clara sees him at his deadliest and most ruthless. Will he work out how to defeat the Mummy? Start the clock!
Now that the 8th episode of series 8 has been aired what did you think? Was it everything you had hoped for or not what you expected…
---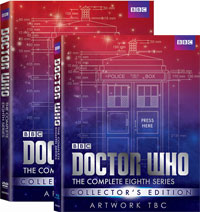 Doctor Who: Series 8 DVD/Blu-ray – BBC Shop Exclusive
Doctor Who The Complete Series 8 starring brand new Twelfth Doctor, Peter Capaldiand his trusty companion Clara, played by Jenna Coleman.
This Limited Edition BBC Shop exclusive Blu-ray or DVD set comes complete with a bright embossed TARDIS slipcase finished with silver foil and a 'press here' button, which when pressed plays the legendary TARDIS sound effect. The Collector's Edition also contains 6 exclusive art cards featuring images of The Doctor and monsters from the new series.
Available in the UK exclusively from www.bbcshop.com
---
The Complete Series 8 DVD/Blu-ray
Doctor Who: Series 8 DVD. Available to pre-order now!
Series 8 of Doctor Who returns to UK TV screens on 23rd August, starring Peter Capaldi as the Twelfth Doctor and Jenna Coleman as Clara.
The series is set to open with a feature length episode titled "Deep Breath".
DVD or Blu-ray available to order from www.bbcshop.com
Also available to order from www.amazon.co.uk
Blu-ray available to order from www.amazon.com
DVD Available to order from www.amazon.com
---