What Did You Think of Forest Of The Night?
One morning, in every city and town in the world, the human race wakes up to face the most surprising invasion yet.
Everywhere, in every land, a forest has grown overnight and taken back the Earth. It doesn't take the Doctor long to discover that the final days of humanity have arrived…
Now that the 10th episode of series 8 has been aired what did you think? Was it everything you had hoped for or not what you expected…
---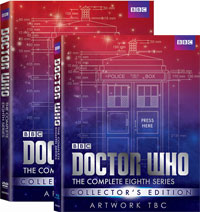 Doctor Who: Series 8 DVD/Blu-ray – BBC Shop Exclusive
Doctor Who The Complete Series 8 starring brand new Twelfth Doctor, Peter Capaldiand his trusty companion Clara, played by Jenna Coleman.
This Limited Edition BBC Shop exclusive Blu-ray or DVD set comes complete with a bright embossed TARDIS slipcase finished with silver foil and a 'press here' button, which when pressed plays the legendary TARDIS sound effect. The Collector's Edition also contains 6 exclusive art cards featuring images of The Doctor and monsters from the new series.
Available in the UK exclusively from www.bbcshop.com
---
The Complete Series 8 DVD/Blu-ray
Doctor Who: Series 8 DVD. Available to pre-order now!
Series 8 of Doctor Who returns to UK TV screens on 23rd August, starring Peter Capaldi as the Twelfth Doctor and Jenna Coleman as Clara.
The series is set to open with a feature length episode titled "Deep Breath".
DVD or Blu-ray available to order from www.bbcshop.com
Also available to order from www.amazon.co.uk
Blu-ray available to order from www.amazon.com
DVD Available to order from www.amazon.com
---