What Did You Think of Episode 5 Time Heist
Now that the 5th episode of series 8 has been aired what did you think? Was it everything you had hoped for or not what you expected…
The Doctor turns bank robber when he is given a task he cannot refuse – to steal from the most dangerous bank in the cosmos.
With the help of a beautiful shape-shifter and cyber-augmented gamer, the Doctor and Clara must fight their way past deadly security and come face to face with the fearsome Teller: a creature of terrifying power that can detect guilt…
---
Doctor Who Series 8 T-Shirts
Exclusive t-shirts only available at BBC Shop.
With each episode of Doctor Who Series 8 comes BBC Shop's episode specific exclusive tee.
Available exclusively from the bbc shop
---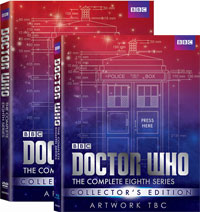 Doctor Who: Series 8 DVD/Blu-ray – BBC Shop Exclusive
Doctor Who The Complete Series 8 starring brand new Twelfth Doctor, Peter Capaldiand his trusty companion Clara, played by Jenna Coleman.
This Limited Edition BBC Shop exclusive Blu-ray or DVD set comes complete with a bright embossed TARDIS slipcase finished with silver foil and a 'press here' button, which when pressed plays the legendary TARDIS sound effect. The Collector's Edition also contains 6 exclusive art cards featuring images of The Doctor and monsters from the new series.
Available in the UK exclusively from www.bbcshop.com
---
The Complete Series 8 DVD/Blu-ray
Doctor Who: Series 8 DVD. Available to pre-order now!
Series 8 of Doctor Who returns to UK TV screens on 23rd August, starring Peter Capaldi as the Twelfth Doctor and Jenna Coleman as Clara.
The series is set to open with a feature length episode titled "Deep Breath".
DVD or Blu-ray available to order from www.bbcshop.com
Also available to order from www.amazon.co.uk
Blu-ray available to order from www.amazon.com
DVD Available to order from www.amazon.com
---