Doctor Who Experience Elisabeth Sladen Event
Elisabeth Sladen: The Autobiography Launch at the Doctor Who Experience
Saturday, 26 November 2011
With thanks to www.aurumpress.co.uk
Earlier this year, the sad death of Elisabeth Sladen – the talented actress who played Sarah Jane Smith in Doctor Who and sister show The Sarah Jane Adventures – was met with grief and affection. Consistently voted one of the Doctor's favourite companions by fans, Elisabeth had almost finished her much anticipated autobiography when she passed away. After her death, the book was completed with the help and full support of her husband and daughter.
To celebrate both publication of the book and the memory of this much-loved actress, Aurum Press are proud to host a very special, one-off event at the Doctor Who Experience. Elisabeth's daughter, Sadie Miller, the 4th Doctor:Tom Baker, and Doctor Who writer and producer Terrance Dicks will be in conversation with TV Choice magazine's Ben Lawrence, discussing the life and their memories of Elisabeth Sladen in the screening room at the Doctor Who Experience at 2.30pm on November 26th.
Elisabeth Sladen: The Autobiography contains a foreword by David Tennant and is published by Aurum Press. RRP £18.99.php
Entrance to the launch of Elisabeth Sladen: The Autobiography is free to Doctor Who Experience ticket holders. As there are only a limited number of spaces available they will need to book a slot in advance. To do this, visitors must select 12.30pm/ 1pm or 2pm time slot on Saturday 26th November. When they select their ticket type they will also have the option to select 'Elisabeth Sladen book launch entry'. This is exclusively available through See Tickets
For more information and to book tickets click here Here
Elisabeth Sladen: The Autobiography
Foreword by David Tennant
The autobiography of Elisabeth Sladen, the actress behind Sarah Jane Smith, Doctor Who's most popular companion
Published posthumously, with the support and participation of Elisabeth's family, this is a warm and witty celebration of an actress who delighted generations of children and is fondly remembered by fans young and old alike
After returning to Doctor Who in 2006, Elisabeth starred in her own spin-off series The Sarah Jane Adventures, which became CBBC's highest-rated show.
When Elisabeth Sladen first appeared as plucky journalist Sarah Jane Smith in 1973 Doctor Who story The Time Warrior, little did she know the character would become one of the most enduring and fondly remembered of the series' long history.
The years that followed saw Elisabeth traverse time and space alongside classic Doctors Jon Pertwee and Tom Baker, whilst a generation of children crouched behind the sofa, terrified but transfixed as their tea-time heroine found herself menaced by Daleks, dinosaurs, Cybermen, Egyptian mummies, extras in Bubble Wrap and even the Loch Ness Monster. By the time she quit the TARDIS in 1976, making front-page news, Elisabeth had become one of the most familiar faces of a TV golden age.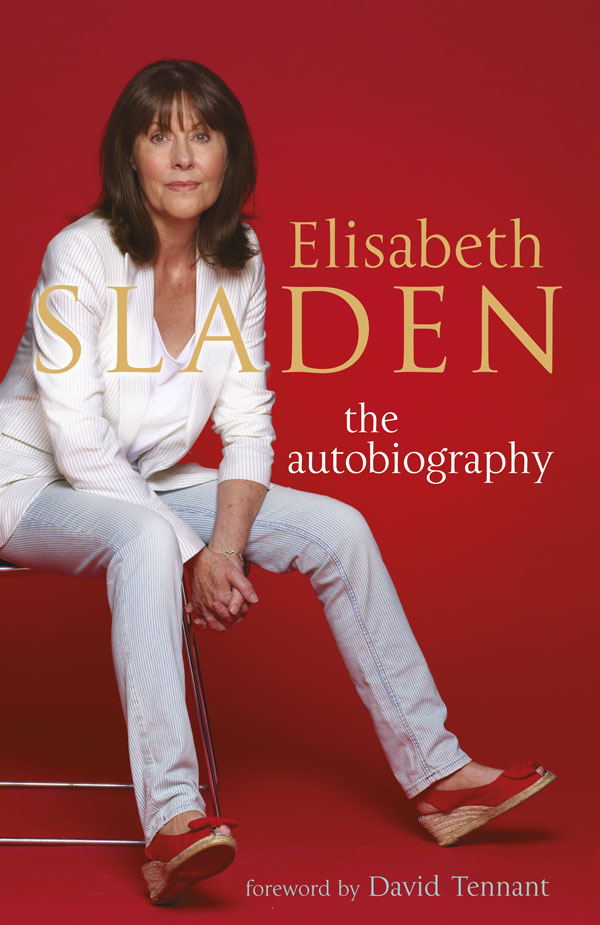 But you don't just walk away from Doctor Who. Elisabeth was asked to reprise the role many times, appearing in anniversary specials; an ill-fated 1981 spin-off with robotic sidekick K-9; radio plays; and for the BBC's Children in Need. She toured the weird, wide and wonderful world of Doctor Who fandom and became one of the series' all-time favourite companions. So when TV wunderkind Russell T Davies approached her to come back again, this time to a Doctor Who backed by multi-million-pound budgets and garlanded with critical plaudits, how could she refuse?
This warm and witty autobiography, completed only months before Elisabeth died in April 2011, tells her remarkable story, from humble beginnings in post-war Liverpool, through an acclaimed theatrical career working alongside stage luminaries such as Alan Ayckbourn, to Coronation Street, Some Mothers Do 'Ave 'Em and the furthest reaches of the Universe.
A unique, insider's view of the world's longest running science fiction series, and of British television yesterday and today, Elisabeth's memoir is funny, ridiculous, insightful and entertaining and a fitting tribute to a woman who will be sadly missed by millions.
Elisabeth Sladen played Sarah Jane Smith in Doctor Who and The Sarah Jane Adventures. She also appeared in Coronation Street, Z-Cars and Some Mothers Do 'Ave 'Em among others, and enjoyed a long, successful and very happy career in the theatre. She died in April 2011.